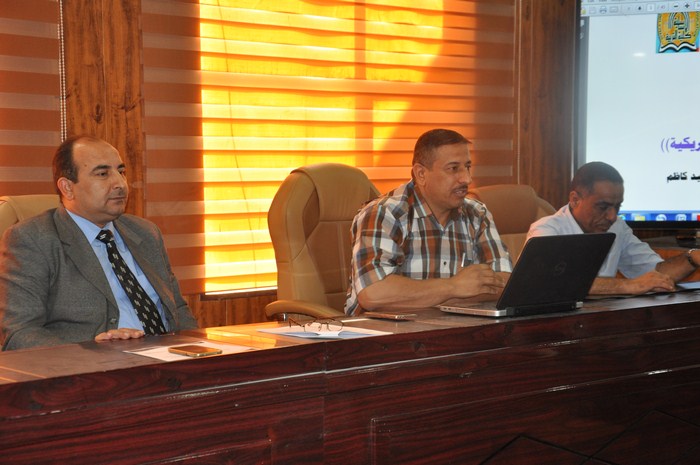 History department held scientific seminar on the religious dimension of US foreign policy
History department held scientific seminar on the religious dimension of US foreign policy
In the presence of Assistant Professor Dr. Haidar Shakir Mezher , Dean of Basic Education College , and Dr. Wissam Jalil , Assistant Dean for Student Affairs , and under the supervision of Dr. Marwan Salem Nuri , head of the Department of History, Department of History held in our college scientific seminar entitled (the religious dimension in the US foreign policy) on the postgraduate Hall in the college.
The seminar was chaired by Dr. Khalid Al-Turki Allioui, the seminar included three axes presented the first axis , and the second Prof. Qahtan Hamid Kazem staff member in the Department of History , and which contained a definition and explanation of the historical roots of religion in the origination and US policy until the early twentieth century, while the third axis which is presented by the assistant lecturer Ibrahim Mohammed Suleiman discuss practical applications of the religious dimension of US foreign policy since the beginning of the twentieth century until 2003, the date of the invasion of Iraq and the following serious implications
The seminar included intervention and scientific valued discussions contributed to enriching seminar , the seminar attended by a group of college professors and students of the department, and exited the seminar a number of recommendations:
1- The need for in-depth study of effect of the religious dimension in the US foreign policy when doing scientific research for American history.
2- Despite the fact that , US Constitution separates religion and politics, but the the seminar and through the facts and events and evidence and documents proved the presence of a large gathering between religion and politics in a different period time of American history.
3- The stages of the invasion of Iraq in 2003, in the beginning of the twenty-first century, form a most important stage in the participation of religion in American politics , when President Bush enter all previous theories in his project of middle East crisis into practice , through his claim that his war on Iraq is a crusade against evil and the axis of evil.