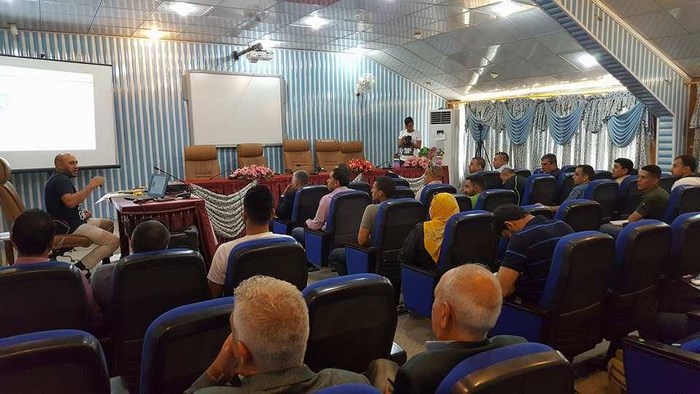 Dean of College of Basic Diyala participates in the scientific seminar on the course of sports management at the University of Leipzig, Germany, organized by the College of Physical Education and Spor
Assistant Professor Dr. Haider Shaker Mezher, Dean of the College of Basic Education, accompanied by Dr. Wissam Jalil Saba, Assistant Dean for Student Affairs, Was attended the seminar entitled "Summary of the Sports Management Course at the University of Leipzig." the course was attended by Dr. Muntaha Azab, Vice President for scientific affairs and Dr. Jassim Mohammed, in-charge of research and development directorate at university.
and within the scientific curriculum of the branch of theoretical sciences and the Division of Continuing Education of the College of Physical Education and Sports Sciences.
The seminar discussed the theoretical activities and the practical activities included in the course and the most important applications and mechanisms that can be employed and used, as ITK courses are part of the cultural and educational policy of the Ministry of Foreign Affairs in the Federal Republic of Germany.
Also, the course of sports management in English is one of the courses developed within the program of preparing international trainers and was implemented in end of 2015. This course was created as a result of the growing demand of institutions for expertise and competencies that can contribute to the development of the work of these institutions in various fields.
The sports management course was attended by 17 participants from 15 countries in the world.