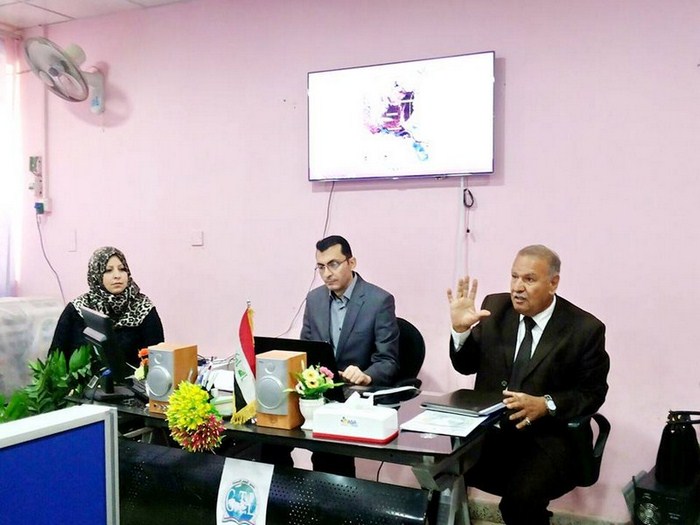 Department of Geography in Diyala held scientific seminar for the Iraqi marshes and its entry into the UNESCO World Heritage
Department of Geography in Diyala held scientific seminar for the Iraqi marshes and its entry into the UNESCO World Heritage
Within the scientific activities of the Department of Geography of the first semester , and under sponsored of the Assistant Professor Dr. Haidar Shakir Mezher , Dean of college , and under the supervision of Dr. Wijdan Rashid Noman , head of the department , the Department of Geography held at the laboratory Geotechnical Hall scientific seminar for the Iraqi marshes and its entry into the UNESCO World Heritage entitled ((Kingdom of cane)) in the presence of teaching staff and students of the department , The seminar was moderated by Prof. Dr. Falih Hassan Kadhim, the seminar discussed the issues concerning the emergence of the marsh area and the changes in the geography of natural and human conditions it enjoys , in addition to the different environment marshes and wealth of ecosystems, also covered importance of developing the marshes within the UNESCO World Heritage, and identified the benefits that would accrue this join as follows:
Registered locations of UNESCO property of the Government, which lies within its borders, but they get the attention and support of the international community to preserve it for future generations

.

Marshes area could be one of the most beautiful tourist resorts in the Middle East if the available tourism infrastructure

.

Allocation of funds by UNESCO to preserve the Marshes and turn it into a tourist areas

.

Increase the share of water allocated to Iraq Marshes from Turkey

.

Marshes area located above the huge oil wealth of undiscovered after accession will help to detect

.